Sustainability
LEED
The development partnership of Verus Partners and Sun Life Investment Management have envisioned an industrial campus that will be unmatched in the City of Edmonton. Part of the winning formula will include LEED Certified buildings. In Canada, LEED (Leadership in Energy and Environmental Design) is a third party assurance and design program managed by the Canada Green Building Council. LEED is a rating system that is recognized internationally for sustainability and green building.
The program not only positively affects the design and construction of your Southport Crossing facility but, most importantly, the efficiency of its operation. LEED Certified is a measure Southport Crossing provides to ensure your investments in operating, maintenance and property management are delivering the best value for your business.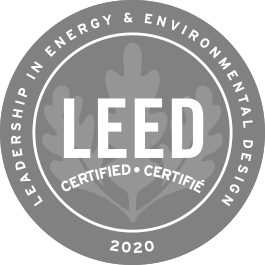 Environmental Reserve and Water Feature
Southport Crossing is pleased to provide tenants and visitors to its industrial campus with inviting streetscapes and landscaping features. Employees, suppliers and clients will be impressed by a business location at Southport Crossing. A fenced environmental reserve along the Park's eastern edge will provide a visual break from industrial buildings and a water feature surrounding the northwest portion of the Park will further amplify the merits of Southport Crossing.
Most importantly, neither feature adds to tenant operating costs. Each building, and the various surrounding streets, will be landscaped and maintained to exceptional standards. All businesses calling Southport Crossing home will enjoy the physical appearance of the Park and the positive reflection it will make on their business.
Click image to enlarge

Quality Assurance
Each building at Southport Crossing has been designed to include the latest techniques and processes in design and pre-cast construction. Glazing walls and building systems will provide an excellent temperature control program for office users and the realities of warehouse and industrial facilities. Based on client requirements, further enhancements can be undertaken to improve sound attenuation (if relevant) or insulation properties.
The project developer – Verus Partners – has developed more than 30 million square feet of industrial and commercial properties across North America. In Alberta alone, the firm has developed a range of projects including 50th Street Industrial Centre, Deerfoot South Trade Park, Eastlake Industrial Centre, Foothills Industrial Centre, Northport Business Park, Saddleridge Business Park and more. The experience of the Verus and Sun Life Investment Management team will be an asset for your new facility or facility relocation.
To read and learn more on the impressive track record of the project developer – Verus Partners – click here.